I'll upload more pics of my crocheted items in a few days. I just can't seem to remember this blog. I've been reading a lot lately and mostly reading articles.
On the crochet roundup, I made a red,blue, and white striped blanket in January or February. It'll go on the recliner in the living room. The original pattern called for surface stitching, but I tried it and it looked terrible. I pulled out the surface stitching and found it looked better without it.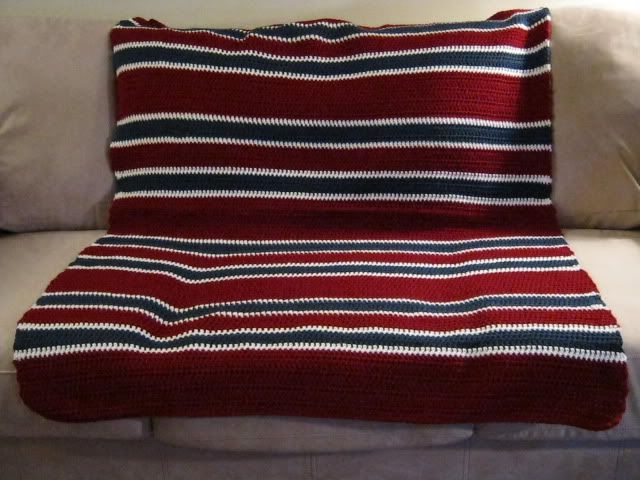 I made one pinwheel medallion on Sunday. It needs starching.
And finally, yesterday I made a dahlia dishcloth. It's poppy and light green cotton yarn.
Well, Dick Clark died. Not much more to say on that, only that he seemed to look the same forever. RIP.
All Free Crochet.com
. They have plenty of free patterns and giveaways, so check them out! I hope I win that yarn!
Christmas was a lot of fun--here's my new Pinkie Pie Christmas ornament--it's the only figurine from My Little Pony: Friendship is Magic that is modeled exactly like the TV show.
I finished making most of my Christmas stockings. I have one other person that wants a large hunter green one, so that one will be next. I intend to focus on amigurami animals and hopefully dog sweaters for January. I just entered a Red Heart Yarn Giveaway on
Current Mood:

awake